Leidos' Dynetics arm adds Northrop to lunar lander team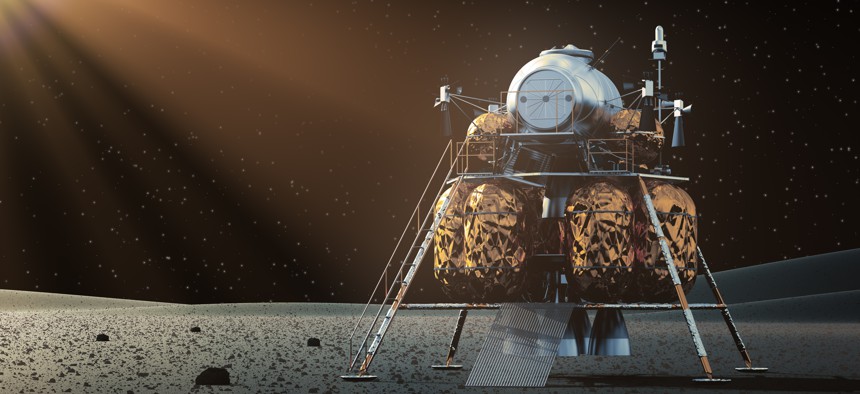 In a new example of "co-opetition" in the federal market, Leidos subsidiary Dynetics has added Northrop Grumman to a partnership competing for a contract to build new lunar landing systems for NASA.
Until their teaming announcement, both companies had competed against each other in earlier phases of the NASA program to send humans back to the moon.
"We're excited to enter the competition to support NASA's Sustaining Lunar Development efforts, adding Northrop Grumman to our team," Leidos Dynetics Group President Steve Cook said in a release.
Both Northrop and Dynetics won prime positions on earlier portions of the Next Space Technologies for Exploration Partnership program. They both were among the winners of Appendix E and N.
NASA released the solicitation for Appendix P in September. Proposals were due Tuesday. Northrop has joined the Dynetics team to pursue Appendix P.
In the meantime, Jeff Bezos' Blue Origin outfit has Boeing and Lockheed Martin as teammates for their own partnership that is also pursuing the contract.
"As the only company to successfully build a crewed lunar lander, Northrop Grumman will be an excellent partner as we support NASA's inspiring efforts to return humans to the lunar surface," Dynetics' Cook said in a company statement.
The difference appendices under the NextSTEP program are for development of different systems for a sustainable return to the moon. NASA has different appendices for habitations systems, fabrication labs, power, and trash compaction and processing just to name a few.
"NASA is counting on industry to lead the development of returning astronauts to the moon," Cook said. "We believe our partnership with Northrop Grumman makes us more than ready for the challenge."
Northrop is touting how it was selected build a habitation and logistics outpost for NASA's lunar gateway as well as provide commercial resupply services to the International Space Station.
Cook said that Northrop's experience is "significantly bolstering our pursuit."
SpaceX already holds a $2.9 billion contract to build the lunar lander for some of the early-manned Artemis missions.
NASA's plan is to have multiple companies that can provide recurring moon landing services for later Artemis missions.