6 big-ticket contracts to watch in 2023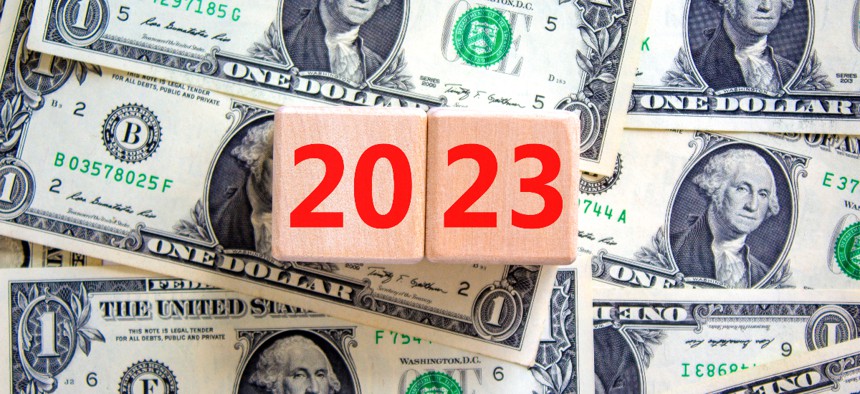 These multiple-award opportunities range in potential estimated value from $5 billion to $100 billion.
The following year is going to be a big one for the federal contracting community, as agencies bid out and award six major IT contracts with a combined potential estimated value of approximately $300 billion over the duration of the contracts.
Though some of these procurements have been planned for years, the timing coincides with President Joe Biden's fiscal 2024 budget proposal, which seeks a significant increase in civilian and total IT funding as well as what would be a record amount—$26 billion—for federal cybersecurity efforts.
While congressional appropriators will have the ultimate say in FY 2024 funding, the following IT contracts—in various stages of procurement—will drive significant federal IT spending for more than a decade to come. The contracts were highlighted Thursday during a webinar hosted by Deltek. 
OASIS Plus (or OASIS+)
In Hollywood, it's uncommon for sequels to be bigger than their predecessors, but in government contracting, they often can be. That's going to be the case with the General Services Administration's highly anticipated follow-on to its successful OASIS—or One Acquisition Solution for Integrated Services—contract.
Since the contract's issuance in 2014, federal agencies have awarded approximately $45 billion against it, according to data from GovTribe, purchasing a variety of professional services.
Yet OASIS+ is going to be much bigger, offering a broader array of services and consolidating three other GSA vehicles under the future contract: the first OASIS; Human Capital and Training Solutions; and the Building, Maintenance and Operations contracts.
In the Thursday webinar, Kevin Plexico, senior vice president of information solutions for Deltek, pegged the estimated ceiling value of OASIS+ at $100 billion, with the request for proposals expected within weeks.
T4NG2
Another contract sequel, T4NG2—Transformation Twenty-One Total Technology Next Generation 2—is further ahead in the procurement process than OASIS+, but will have a slightly lower ceiling: $60 billion. Final proposals for T4NG2 were due April 17, and awards are expected before the year's end.
When awarded, the Department of Veterans Affairs expects to use the contract to procure a wide variety of software and IT products, as well as services, including program management, enterprise architecture and planning, systems and software engineering and strategy and cybersecurity services.
The procurement has had snags. As Washington Technology reported in February, industry complained of tight response times regarding the massive follow-on's draft RFP.
SEWP VI
Plexico said NASA is "intent on expanding the scope" of this "wildly popular" governmentwide contract by incorporating more services to support more IT spend across agencies.
The result? A ceiling value of "at least $50 billion," according to Deltek, with an RFP expected in early 2024.
SEWP, one of the largest federal IT contract vehicles, stands for Solutions for Enterprise Wide Procurement. Each year, federal agencies collectively purchase billions of dollars' worth of IT products through the vehicle.
Alliant 3
Another sequel, Alliant 3, is the future successor of Alliant 2 GWAC, which GSA bid out in 2017 with a ceiling value of $50 billion.
In 2022, Alliant 2's success drove GSA to increase the ceiling by half to $75 billion, with Federal Acquisition Service Commissioner Sonny Hashmi calling the Alliant GWAC "a go-to IT service contract to meet the complex IT modernization and mission of the government."
Not surprisingly, GSA anticipates significant interest in Alliant 3, with an expected ceiling value of $75 billion. An RFP is expected to go out for bid by the end of 2023.
Evolve
Evolve is the State Department's $10 billion enterprise IT services solicitation. The agency envisions the contract serving to modernize State Department services in support of the nation's diplomatic goals in areas including cybersecurity, data analysis, climate, health and workforce accessibility.
Bids for the contract are currently under review by the State Department. Awards are expected in late 2023.
PACTS III
A threequel, the Program Management, Administration, Clerical and Technical Services III contract has a ceiling value of $5 billion with an RFP expected out to industry by August, according to Deltek. Per a draft request for proposal, it will have a three-year base period with four options totaling up to 10 years.
The contract's name basically spells out its mission. It will be used to procure services in three main areas: administrative and management consulting services; office administrative services; and engineering services.