VA opposed to new EHR requirements but open to more major acquisition review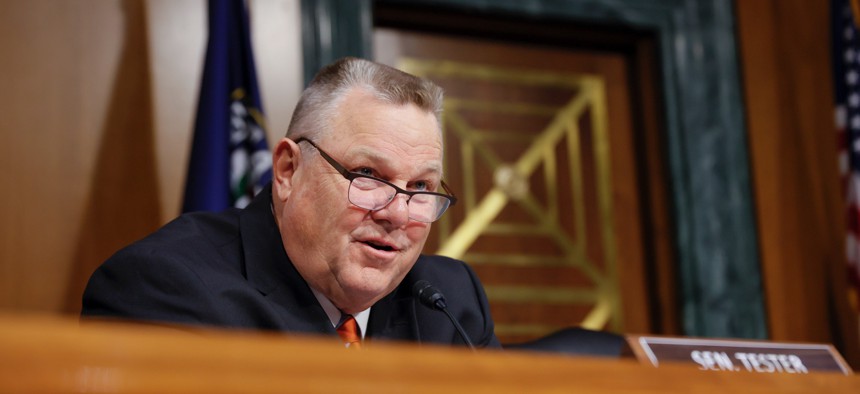 VA officials told lawmakers  Wednesday that they oppose proposed oversight standards for the department's new electronic health record modernization program.
Officials from the Department of Veterans Affairs pushed back on Wednesday against legislation that would impose stringent requirements on the department's beleaguered electronic health record modernization program, but voiced support for a proposal to increase oversight of major acquisition projects moving forward. 
Testifying before separate House and Senate Veterans' Affairs panels on Wednesday to discuss a raft of proposed bills, VA officials acknowledged the need to improve the department's acquisition processes but stopped short of supporting codified improvement metrics for the implementation of its new Oracle Cerner EHR system.
VA's multi-billion dollar program to modernize its legacy health record system has faced intense congressional scrutiny since it was first rolled out in 2020, with lawmakers criticizing patient safety incidents, cost overruns, technical glitches and performance issues associated with the new EHR software's deployment.
Although the department and Oracle Cerner extended the program's contract in May, VA previously instituted a pause on future deployments of the new software in April as part of a "larger program reset" to address issues with the new system.
During Wednesday's full Senate committee hearing, Dr. Miguel LaPuz — VA's assistant under secretary for health for integrated veteran care — pushed back against separate proposals from the committee's top Democrat and Republican that would set new certification requirements for any future deployments of the Oracle Cerner software. 
LaPuz told lawmakers that the department "is committed to continued improvement" of the EHR modernization program and added that "we strongly caution against enacting requirements that may address today's situation but could create unintended outcomes in the future."
Sen. Jon Tester, D-Mont. — who chairs the committee — introduced the EHR Program RESET Act in March to "restructure, enhance and strengthen the entire EHRM program while also mandating aggressive reporting to Congress to increase oversight, accountability and transparency."
A bipartisan group of House members — led by Reps. Mark Takano, D-Calif., ranking member of the House Veterans' Affairs Committee, and Mike Bost, R-Ill., the panel's chairman — introduced a House companion to Tester's bill in April. 
Sen. Jerry Moran, R-Kan. — the committee's ranking member — also introduced legislation in March that would limit the department's deployment of the new EHR software at additional VA medical facilities until officials certify a series of "system stability improvements."
Moran noted his bill's similarities to Tester's legislation during the hearing and said it "suggests to me that we can find a path forward working together."
In his written testimony, LaPuz said VA did not support Tester's legislation "because many of the bill's provisions reduce managerial flexibility and create a significant operational burden." 
He also wrote that Moran's proposal to limit deployments of the EHR system until VA meets set performance metrics does not, in part, "consider the current EHRM program reset and infrastructure activities that necessitate continued engagement given the implementation lead time."
Despite the department's opposition to imposing stricter requirements on future deployments of the Oracle Cerner EHR system, VA officials who testified during a House Veterans' Affairs Oversight and Investigations Subcommittee hearing expressed an openness to revamping the department's approach to overseeing, managing and approving major acquisition programs moving forward. 
Those sentiments were conveyed in response to a Democratic-led proposal to establish a formal board to regularly review VA's major acquisition programs and conduct meetings throughout program phases to ensure that project requirements are being met. 
Lewis Ratchford — VA's chief security officer — told the subcommittee in his written testimony that "VA supports this bill, if amended" to, in part, address some technical language around "the dollar value for major acquisition programs."
The bill — the Acquisition Review Board Act — was introduced by Rep. Frank Mrvan, D-Ind., ranking member of the Oversight and Investigations Subcommittee, and Rep. Sheila Cherfilus-McCormick, D-Fla., ranking member of the Technology Modernization Subcommittee. 
Mrvan said the legislation was influenced by "several struggling IT modernization projects at the VA," including the department's EHR modernizations program.
"Programs have been allowed to flounder, go off task, lag in schedule and result in cost overruns because there have been no formal checks and balances within the VA," he said, adding that the bill "will provide a structure for those checks and balances."
Angela Billups, executive director of VA's Office of Acquisition and Logistics, told Mrvan that the legislation would help improve the department's acquisition process by "filling a critical gap that we have right now" when it comes to the leadership and oversight structure needed to keep major projects on track. 
"One of the reasons why we really appreciate this legislation is because anytime you get ready to spin appropriated fund dollars for the purposes of a program, someone has to start that business case," Billups added. "Someone has to present that in a way so that the leadership — meaning the deputy secretary and the secretary — really understands how these programs are going to impact VA and the overall VA mission."