Author Archive
Ross Wilkers
Senior Staff Reporter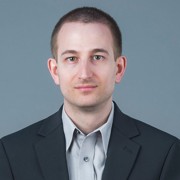 Ross Wilkers is Washington Technology's senior staff reporter covering the business of government contracting, plus the companies and trends that shape the market. He joined WT in 2017 and works with Editor-in-Chief Nick Wakeman to host and produce our "Project 38" podcast featuring interviews with the market's leading executives and voices. Ross is a native of Northern Virginia and is an alumnus of George Mason University.
Companies
The board's newest member also once led strategic plans and policy in the Defense Department's Joint Staff organization.
Companies
The three-decade veteran most recently led CDC's engagement functions with other government agencies and external partners.
Companies
N2grate provides technology, training and other professional services to federal agencies.
---
Companies
Advent International's willingness to shoulder the risk for a key Maxar constellation captured the space company's attention.
Companies
The Air Force uses this system to process parts and repair orders across more than 100 countries.
Companies
The telecommunications company makes this hire close to four months after a new chief executive joined.
Companies
The four-decade sector veteran led Centauri through its sale to KBR, which called that acquisition the most transformational in its history given the size and scope.
Companies
The private equity firm is quickly bringing together companies to build a platform in the UAS sector of the defense market.
Companies
Federal antitrust regulators are hearing from L3Harris Technologies as to why they should approve the $4.7 billion transaction. Investors have now heard from L3Harris as to why they should be on board with it.
Companies
The three-decade firm veteran led its state, local and higher education practice through a period of historically high demand for services from that client base during the pandemic.
Podcasts
The global government services company's course is the focus of this episode, where CEO John Heller describes where Amentum wants to go and some larger market dynamics that shape the strategy.
Companies
This pair of blue chip defense hardware companies makes additions to their respective leadership teams.
Companies
Integration is the firm's current focus now that the EverWatch purchase has closed, as is hiring.
Companies
The 11-year-old cybersecurity company takes the next step in its evolution and strategy by bringing in a new investor.
Companies
The idea is to incorporate new manufacturing techniques into the making of defense systems and other offerings.
Companies
The leaders of Northrop Grumman and CACI International describe budget cut talk as "noise" emanating from Capitol Hill given the seriousness of national security threats.
Companies
The company just completed its transition to a new chief executive.
Companies
The space systems integrator picks an insider to take the reins.
Companies
Three companies announced a series of chief technology officer appointments within a week and those are summarized here.
Companies
Are supply chains in the defense industry getting back to ruder health? The answer is nuanced as Lockheed Martin and Raytheon Technologies leaders have told investors.