Author Archive
Ross Wilkers
Senior Staff Reporter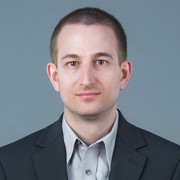 Ross Wilkers covers the business of government contracting, companies and trends that shape the market. He joined WT in 2017 and works with Editor-in-Chief Nick Wakeman to host and produce our WT 360 podcast that features discussions with the market's leading executives and voices. Ross is a native of Northern Virginia and is an alumnus of George Mason University.
Companies
CEOs of publicly-traded companies everywhere are getting questions from investors on the debt ceiling crisis. This time it was Booz Allen Hamilton's leader who had to acknowledge the situation.
Contracts
The contract called "Clover" is for acquisition and financial management support.
Contracts
This fourth iteration of the so-called "IMCS" contract continues support for the Army's Network Enterprise Command that operates and defends computer networks.
---
Companies
The private equity firm plans to further expand its portfolio of companies, which already includes SilverEdge Government Solutions.
Contracts
Question number one that companies in the government market want answered is how payments for their work on contracts will, or will not, happen in a debt default situation. No one knows for sure.
Companies
Elaine Luria formerly represented the Virginia district that includes Hampton Roads, where the Navy has a significant presence.
Companies
This transaction represents Agile Defense's first with the backing of its owner Enlightenment Capital.
Companies
Fregata Systems looks to make a string of acquisitions over the next three years and has hired a new CEO that formerly led Cubic Corp.'s defense business.
Contracts
The goal is to further advance technologies for this concept that includes items worn, carried, or used by soldiers.
Podcasts
ICF's lead technology executives Mark Lee and Kyle Tuberson join to explain the company's creation of a new organization focused on innovation and how today's client landscape looks very similar across public sector and commercial markets.
Podcasts
AT&T's public sector leader Zee Hussain joins to go over how that business unit works to align itself with the goals and vision of the corporation at-large, plus how agencies are starting or in some cases accelerating their 5G journey.
Companies
The president of L3Harris' integrated mission systems segment tells us about his company's collaboration with BigBear.ai and how that feeds into a larger push toward something new.
Companies
CTI is putting together a two-to-three year plan that will be shaped by big-picture tech questions and is aided by Bluestone Investment Partners.
Opinion
Shutdowns and stopgap funding measures are familiar territory for government contractors, but a potential debt default is not. It's time to understand what that might mean.
Companies
The artificial intelligence integrator has wrapped up the alignment of its businesses.
Companies
The federal market is poised to get a new independent, publicly traded company thanks to Jacobs' decision to spin out the bulk of its $4.4 billion government services business.
Contracts
Work supports an integrated battlespace simulation and test department that also acts as a Navy center of excellence.
Companies
The nonprofit science firm is increasing its focus on a cybersecurity framework to roll into a larger digital strategy.
Companies
The Special Warfare Assault Kit is a system-of-systems for helping special operators carry out specific missions.
Companies
The buyer is looking to expand its work simulating network compromises as a way to test security of those networks.