CACI ruled ineligible for $774M Army encryption contract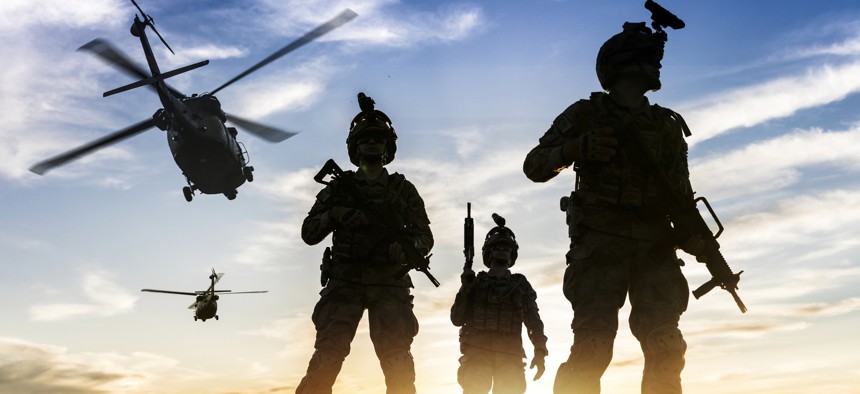 A U.S. Court of Federal Claims judge has delivered a one-two punch on CACI International's attempt to win a seat on a $774 million Army encryption contract.
CACI lost a competition against General Dynamics Mission Systems and Sierra Nevada to build devices that encrypt and un-encrypt data on the battlefield. That device is known as the Next Generation Load Device Medium or NGLD-M.
Reston, Virginia-headquartered CACI went to the court challenging the Army's finding that its technical solution was unacceptable. But in a counter filing, Sierra Nevada argued that CACI had an organizational conflict-of-interest because of other work the latter company does for the Army.
Sierra Nevada said that conflict meant CACI was ineligible to bid on the work in first place, according to the court's decision.
In punch number one, Judge Edward Somers agreed with Sierra Nevada. That conflict was enough on its own to disqualify CACI from the competition.
With this ruling, CACI was found to not have "standing" and was not an "interested party." These are legal terms that translate to mean that it didn't matter how good or bad CACI's technical proposal was if they should not have been in the running anyway.
If CACI shouldn't have been in the competition, then they can't protest.
CACI ran into the organizational conflict-of-interest problem because of systems engineering and technical direction services it provides the Army that are related to the encryption system.
The company declined to comment for this post.
Somers took his decision a step further to also rule that even if there was no conflict of interest, CACI failed to show the deficiencies the Army found in its technical proposal were the result of an improper evaluation.
That was punch number two.
In phase one of the competition, CACI's proposal was found to have correctable deficiencies. Which means CACI qualified for phase two.
But in correcting the problems found in phase one, CACI created three more deficiencies. Those problems led to the proposal being deemed unawardable, according to the court ruling.
Somers' ruling goes into great detail about the organizational conflict of interest CACI had and that it could not be mitigated. CACI had the burden to prove that the work that the systems engineering work it did related to the encryption system was not an organizational conflict of interest.
CACI couldn't do that, and so it wasn't eligible for the award to start with.
The organizational conflict of interest is clear in the ruling, but what isn't clear is why CACI was allowed to bid in the first place. CACI never hid the fact that it did the systems engineering work in question. The Army knew about CACI's work but didn't comment on it.
It appears that Sierra Nevada did the Army's work for them. After all, the Army only acknowledges the issue after Sierra Nevada pointed it out in their response to CACI's protest.
So why didn't the Army say this right from the start? -- "Sorry CACI, but you can't bid on this."
That's what the Army should have done. Think of the time and resources saved by everyone if that conversation had taken place. Instead, CACI wasted its bid-and-proposal dollars. Also consider the legal fees by all the companies involved as well as the Army.
All adding up to an outcome that was avoidable.