AeroVironment acquires flight navigation tech provider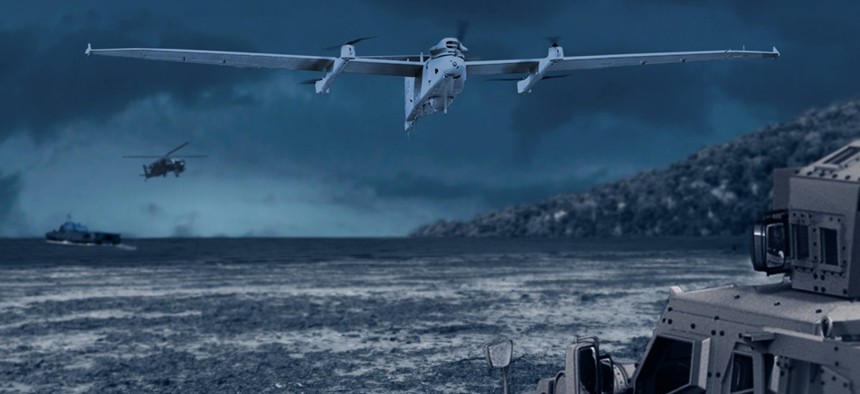 The unmanned systems manufacturer is looking to speed up and bolster its autonomy development cycles.
AeroVironment has completed its first acquisition since the unmanned aircraft and robotic systems maker moved its headquarters last year to the Washington, D.C. region from Greater Los Angeles.
The company said Wednesday it has purchased Planck Aerosystems, a provider of navigational technology for unmanned aircraft, in a move to accelerate the development of new autonomy solutions. No terms were disclosed.
San Diego-headquartered Planck was founded in 2014 and touts its U.S. government customer base as including the Army, Navy, Air Force, Customs and Border Protection, and the National Oceanic and Atmospheric Administration.
Planck will become a part of AeroVironment's medium unmanned aircraft business segment based in the San Francisco Bay Area suburb of Petaluma with a focus on integrating flight autonomy tools into AeroVironment's platforms.
Both companies envision their combined offerings as enabling safe, autonomous takeoff and landing from moving platforms on land or at sea in GPS-denied environments.
"Planck has a compelling product and technology roadmap with valuable capabilities that we plan to deploy and integrate with AeroVironment's existing portfolio of intelligent, multi-domain robotic systems," AeroVironment CEO Wahid Nawabi said in a release.
AeroVironment moved its headquarters from Simi Valley, California to Arlington, Virginia in the summer of 2021 so it could have more proximity to government decision-makers and other influential figures in its customer community.
That relocation came in the wake of AeroVironment's acquisition of the Progeny Systems intelligent systems group that had its headquarters in Manassas, Virginia. AeroVironment decided to use that Manassas facility as its main hub for artificial intelligence innovation.
Simi Valley is still home to three AeroVironment facilities.
Canaccord Genuity served as the exclusive financial advisor to Planck.