Growth, operational leadership hires mark busy week in exec movement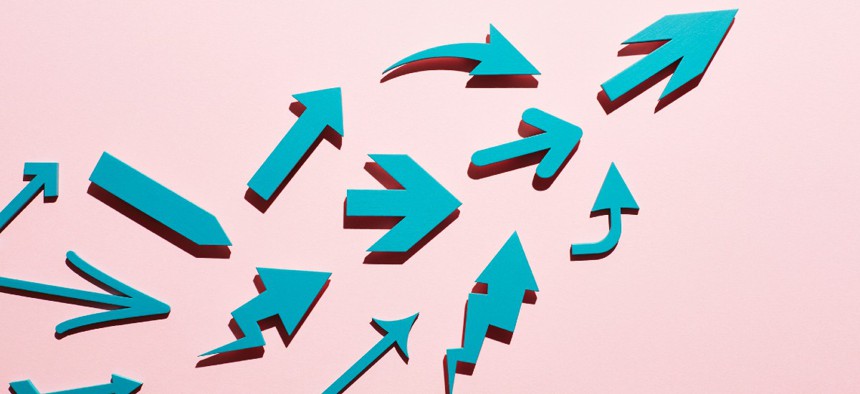 Atlas Space Operations
On the heels of securing new investment, the space communications technology integrator has further built up its leadership team with a new chief growth officer.
T.I. Weintraub will lead Atlas Space Operations' strategic growth initiatives that include business development efforts and potential opportunities for mergers and acquisitions.
Weintraub was most recently director of business development at BlueHalo. His career also includes stops at Raytheon and Riverside Research.
In late August, Atlas closed a $26 million Series B fundraising round to further support its development of cloud-based solutions for government and commercial space network operators.
HDT Global
New Chief Revenue Officer James Cassella brings almost 25 years of corporate growth and business development experience from larger government contractors to the mid-sized military equipment supplier.
Cassella joins the Greater Cleveland-headquartered HDT Global to help steer this phase of the company's growth strategy involving both its product line and engineering service offerings.
He most recently spent eight years as chief growth officer for the former DynCorp International, which was acquired by Amentum in late 2020.
The retired Army aviation officer also held leadership roles at Leonardo DRS and Booz Allen Hamilton.
Lumen Technologies
One of the three largest federal telecommunications carriers has brought in a nearly 10-year veteran of the FBI as deputy chief security officer and vice president.
Natnael Habtesion will oversee Lumen's efforts related to industrial security, compliance, auditing and security risk assurance. His focus for the public sector business includes developing a more unified approach to protecting network infrastructure.
Habtesion spent just shy of 10 years at the FBI, which culminated as assistant section chief in charge of strategy and large-scale endeavors.
After leaving the FBI, he worked at Discover Financial Services for eight years in cybersecurity leadership roles.
Metaphase Consulting
To help lead this phase of its growth strategy, the IT and business process management services provider has brought in former General Services Administration official Beth Angerman as chief operating officer.
Angerman most recently was managing director of the federal practice at Slalom Consulting, a global technology solutions integrator.
She joined Slalom in 2020 after two years as principal deputy associate administrator at GSA's office of governmentwide policy, an organization responsible for creating and influencing administrative and shared services across government.
Her career also includes senior executive roles at the Treasury Department.
PM Consulting Group
International development and health programs are priority market areas for the Towson, Maryland-headquartered company with the backing of the government market investment firm Enlightenment Capital.
PMCG has found its leader for the second area aforementioned with the hire of two-decade federal market veteran Spencer Hedden as senior vice president of advanced healthcare solutions.
Hedden's career prior to PMCG includes senior leadership roles at Venesco, TMR, Professional Services LLC and 2020LLC.
Towson, Maryland-headquartered PMCG has been busy on the leadership appointment front since Enlightenment made its investment in the company, including the hire of Tony Guthrie to lead the international development business.
Xage
A cybersecurity company focused on critical infrastructure, the firm is looking to expand its footing among federal agencies that includes partnerships with systems integrators.
Nearly two-decade market veteran Matthew Heideman has joined the Silicon Valley-headquartered company to lead that effort as vice president of federal.
Heideman most recently was director of public sector market strategic partnerships and growth at cloud-native application developer D2IQ.
Xage has also hired a second former D2IQ executive in Darron Makrokanis, who takes on the new role of chief revenue officer. His career also includes leadership roles at Druva, Tenable, Splunk and Booz Allen Hamilton.