Palantir takes another step forward with its Lockheed Martin agreement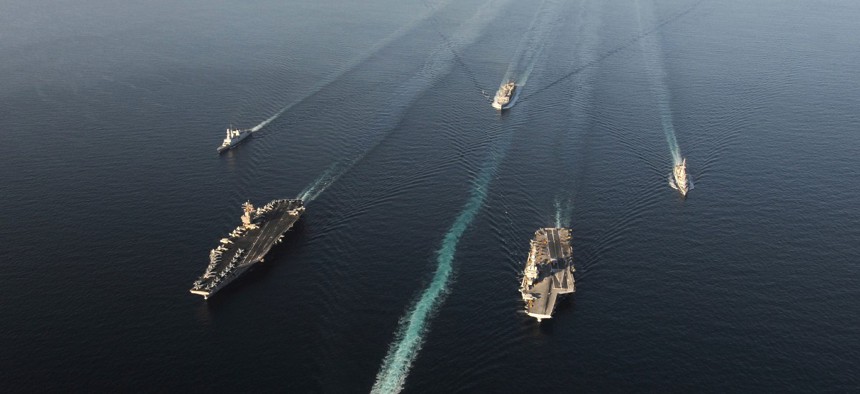 For its Navy partnership with Lockheed, the software provider puts on its good partner hat and broadens its strategy to be a disruptor in the market.
Palantir has been aggressive and vocal in its push to grab government market share during the software maker's 19 years of existence, no doubt about that.
Just go back to when Palantir undertook its public listing in 2020 and essentially called out every government technology company as a competitor. The message was loud and clear as it touted its desire to become the "Sixth Prime contractor" and the default U.S. government central operating system.
But Palantir's other message of late has been that it wants to work well with larger defense hardware primes, to which the company can provide its flagship software for their platforms.
Case in point: the collaboration announced Tuesday involving Palantir and Lockheed Martin that focuses on implementing modern software into Navy combat systems. Palantir will provide its Apollo software for orchestrating configuration updates and continuous delivery to the partnership.
Apollo is built to support autonomous deployment of new software and applications in a way that allows development teams to work independently and not coordinated in time.
In a February 2021 earnings call with investors, Palantir Chief Operating Officer Shyam Sankar said the idea was to bring the company's software and other offerings into existing programs of record already held by the large primes.
Palantir's approach for partnerships is specific to the companies that build the hardware platforms, Sankar said at the time.
The company's vision is this in Sankar's words: "Something that looks like Palantir inside of every missile, inside of every drone, Palantir on the edge inside of every sensor in every shooter."
More specific to Palantir's partnership with Lockheed, the companies are looking to work closely with the Navy on modernizing combat systems for surface vessels.
Palantir captured a potential $80 million contract in early 2020 with the Navy, which is using the company's software to create a new data environment for the branch's supply and maintenance functions.
That work relates to the business and operational functions of the Navy, whereas Palantir's work with Lockheed evidently focuses on the branch's core mission of supporting  national defense.
"The Navy needs capability to update software at the edge rapidly and securely to address ever-evolving threats. Lockheed Martin is investing in skills, capabilities, tools, and infrastructure to deliver the best software to the warfighter efficiently and affordably," Joe DiPetro, Lockheed vice president and general manager for naval combat and missile defense systems, said in a release Tuesday.
"Palantir's Apollo is central to these efforts. Apollo addresses last-mile delivery challenges and performs automated software deployment and management across secure government networks, cloud environments and on-platform environments," DePietro added.