If, Then: 2023 poses many questions and scenarios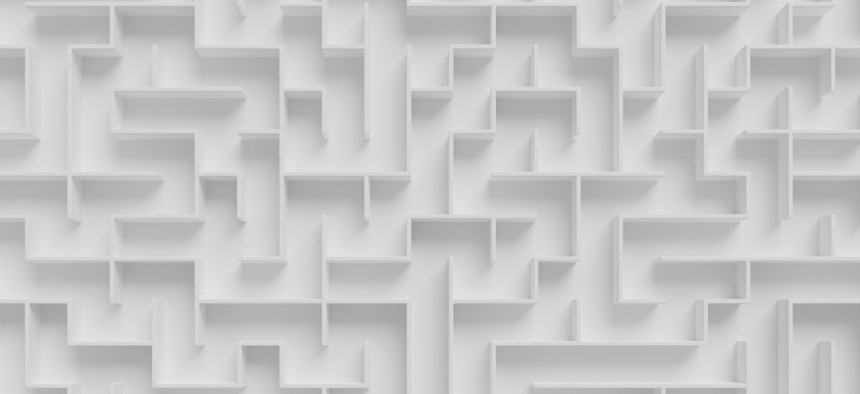 No outcome predictions in this space because that's too hard and risky. But plenty of pathways ahead as 2023 begins.
Predictions are a fun but hazardous exercise because of how quickly the world changes around us, so we tend to shy away from getting too specific in saying what and how things will happen.
But there are a dozen or so questions and scenarios to walk through for 2023 in our annual exercise of pondering them. As we remind each year: disagreement, pushback and a dose of "hey, also consider this" is all encouraged.
If small business contract awards are on the rise to record levels but the number of firms competing for the work keeps trending down...
Then skepticism should reign over whether these ambitious goals of more opportunities for small businesses and particularly those in the disadvantaged category will actually grow the pool. Other management factors across government matter as well and those should be equally addressed.
If small businesses have a whole lot of questions about what is up with mentor-protege partnerships and how to go about them...
Then we look to the Court of Federal Claims for some answers in its hearing of these two protests over the government-wide Polaris IT solutions contract. The now-very infamous CIO-SP4 contract, also for IT solutions across government we may add, has a completely different approach.
If that now-very infamous CIO-SP4 contract has caused more angst and loathing than many other government-wide vehicles in recent memory...
Then unfortunately this scenario is an even money bet. Just wait until the awards come out and the protest cycle starts over again.
If the question over why self-scoring has become the apparent default method for many agencies to pick winners of multiple-award contracts...
Then maybe consider that government customers are stretched too thin as many of them said here. And several GovCon chief executives who see it first-hand said here. And as one of those CEOs also said here. Government customers need people too.
If it appears as if the technology talent pool has grown all of a sudden because of widespread layoffs across that sector...
Then both speed and quality of the pitch to said talent is every government contractor's best friend as they look in that direction. But a word of caution: all companies in all sectors have the same idea. Every company uses technology after all and needs people to help make it work.
If private equity and venture capital investors are all sitting on a lot of money to invest (which they are) and you see your company as a good candidate for it...
Then let's try this analogy for kicks. The way to think about this money is as if it is a college athletic scholarship, but only for the standout best-of-the-best and those with a good story to tell that makes it impossible for investors to go anywhere else.
If what we call the "Group of Four" defense technology companies that have achieved multibillion-dollar valuations via venture capital has any lessons to offer...
Then here is a short list of them that should not be too difficult to grasp: avoid starting out by being all things to all people and focus is your best friend. Keep an ear out for the term "no use" in this episode of our podcast from two investment leaders that would know. Watch developments out of this new Defense Department organization as well.
If IBM's announcement that it is moving to acquire Octo caught us by surprise...
Then that is because, well, it did. Only by looking back at Big Blue's own transformation in recent years does everything come together. Which begs the question of how to think about global commercial tech companies like IBM as acquirers of midsized federal technology companies like Octo.
If Leonardo DRS joined our watch list of government contractors on the public markets...
Then the law of averages should remind us that others leave that list, as ManTech did with its sale to The Carlyle Group. So is Aerojet Rocketdyne in its agreement to be acquired by L3Harris Technologies. Add Maxar Technologies' pending sale to private equity as well. But in their place, which large private equity-backed contractors may be scoping out plans for an (eventual) public listing?
If the definition of a "market" in government contracting is not a fixed one as shown in this court ruling on Booz Allen Hamilton's buy of EverWatch...
Then we should take the discussion to the very -nth degree and suggest thinking about the government market as more of an economy. Yes do consider the source of these numbers, but we still point to bullet item number two on federal spending and gross domestic product.
If determining the global computer chip supply crunch's impacts on government technology and particularly defense was an inexact science last year...
Then determining whether or not the CHIPS and Science Act signed into law this year is a circuit-breaker for the problem or not will take multiple years. Companies that buy semiconductors will be the ones to tell the world how it is working or not.
If that law's $52 billion figure on chip production subsidies, or as its advocates would argue is a jump-start, is not much of an attention-grabber...
Then consider how it is part of a larger $280 billion whole aimed at putting the U.S. at the top of the chip food chain. Whomever leads the world in chip production holds a lot of leverage. Everything in the world runs on chips.
If the Defense Department has, at various points, tacitly told federal technology integrators to work on their value-add for making commercial cloud connectivity a reality...
Then that message is becoming more loud and clear now that the Pentagon has finally awarded its big-ticket "JWCC" cloud infrastructure contract to four of the world's largest hyperscale providers. It still appears as if DOD wants and needs the systems integrators because getting to a tactical cloud looks very complicated.
If it looks like we saved for last the emerging CMMC cybersecurity standard for companies at all levels of the defense industrial base...
Then yes, that is exactly the case because the canvas of CMMC has in fact always been pretty clear even if what goes inside it has been under construction. The time to start getting ready was yesterday.