Workforce issues stay top of mind for GovCon execs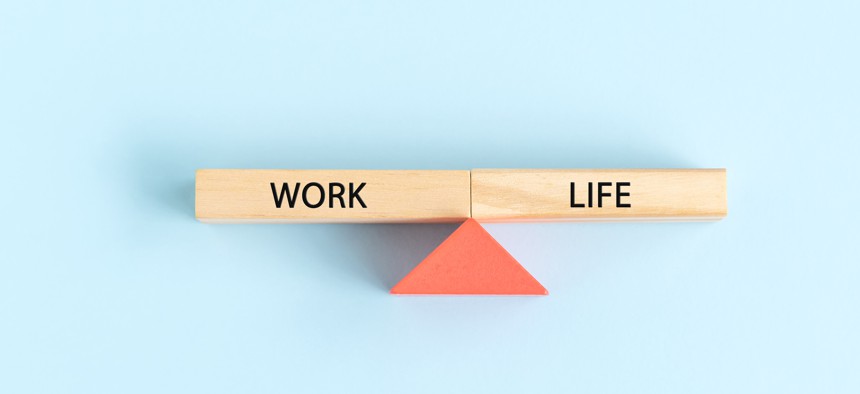 No matter the size of their business, government contractors see people and workforce issues as among the most pressing they face.
We had some great insights on the market and some glimpses into company strategies at our Friday Washington Technology Power Breakfast.
The lineup of executives from CACI International, Citizant, Leidos, LMI and V2X did not disappoint. Each panelist provided their distinct takes on the market. But common themes emerged around people and workforce, modernization, cybersecurity and supply chain issues.
Our lineup of speakers was:
Alba Aleman, founder and CEO of Citizant
DeEtte Gray, president of business and IT solutions at CACI International
Debbie Opiekun, chief business development officer at Leidos
Doug Wagoner, CEO of LMI
Sue Deagle, chief growth and client service officer at V2X.
One talking point that struck me as interesting came from Aleman, whose company is a small business.
But when it comes to people issues, Aleman said that large and small businesses share much in common.
People want to feel connected to the mission and be challenged. When it comes to tech talent, government contractors are competing in a much wider swath of the economy.
The ongoing layoffs among large global commercial tech companies should make the government market more attractive to workers but it is too early to tell yet, the executives said.
Individual companies have their unique situations. Wagoner said that when LMI was acquired by a group of private equity firms, the contractor converted from being a nonprofit organization to a for-profit.
"We had some employees who liked the idea that they were working for a nonprofit," he said.
For those employees, LMI leaders had explain what the benefits were. Top of the list is faster growth that increases opportunities. LMI is not changing its mission and that means the expansion will allow the employees to do more of what they joined to do, Wagoner said.
A second people issue the executives discussed was diversity, equity and inclusion. V2X is working to elevate the women leaders it has working in the Middle East. Part of that work is to ensure they know they are seen and support, Deagle said.
Being seen and supported was a common theme during the discussion about DEI.
Employee resource groups are becoming common across the government contracting industry. The executives shared that they have groups for Black and LBGTQ employees, as well as Hispanic and Indo-Asian employees.
Veterans are another group of employees that are being supported by ERGs. That was particularly important when the U.S. withdrew from Afghanistan and the Taliban took over.
The withdrawal was a difficult period for many veterans who had served there and had friends there. The veteran-focused groups gave them a chance to share their experiences and support each other, the executives said.
From a customer perspective, the executives also talked about how important IT modernization is now. Even through it has been talked about for years, more agencies seem to get it now in ways they didn't before, CACI's Gray said.
Modernization is about updating applications as well as moving toward more hybrid infrastructures that rely on private and public clouds as well as some on-premise computing. An important trend is shifting more computing power to the edge, the executives said.
The push for modernization also raises the need for stronger cybersecurity. There is a major push on for zero trust.
The supply chain is another issue that is top of mind. Prime contractors are not only changing how they source products, but also how they work with their teammates and suppliers.
Our next Power Breakfast is planned for March 10 and will feature a keynote by Air Force Chief Information Officer Lauren Knausenberger.