The Minburn story: or how a small, dedicated team can accomplish big things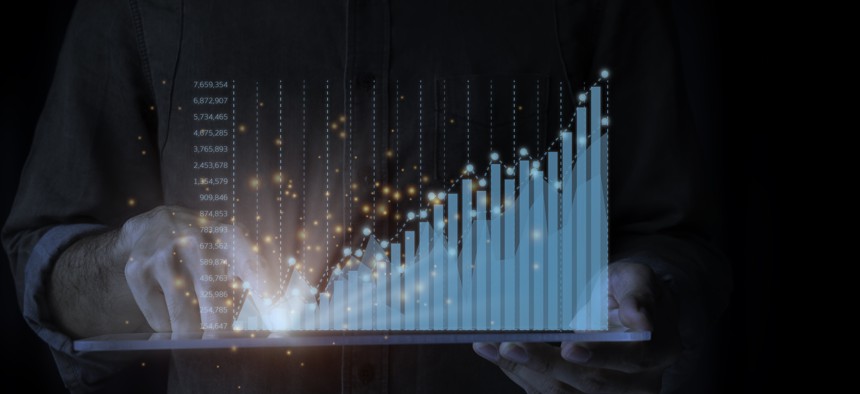 In 2020, a very small company, Minburn Technology Group, broke into the Washington Technology top 100 at No. 94. Most people in the government contracting community had no clue about who Minburn was or what they did. In 2021 Minburn jumped 28 spots to No. 66.
Minburn CEO Tony Colangelo learned early that a small, dedicated team could accomplish big tasks. Right out of high school, Tony enlisted in the Army Reserves, in a unit attached to the Special Forces.
I first ran across Tony in the late 1980s when I was consulting with Dendy Young and Falcon Microsystems. Dendy mentored several people, including Craig Abod, now CEO of Carahsoft.  He also mentored me. Tony picked up some valuable management lessons at Falcon.
We crossed paths again after Falcon was purchased by GTSI in the very early 1990s. Tony is a quick study and rarely forgets the lessons he chooses to learn.
In the mid-1990s, Harry B Heisler, formerly of GTSI but now running Micron PC's public sector business, brought me in to consult. He asked me to find someone who could do both business development and sales, so I introduced him to Tony . Oddly enough they had not met.
Micron sold PCs and laptops directly to the government, but they faced tough competition from two larger direct sellers, Dell and Gateway. Micron successfully grew by focusing on beachheads in four agencies and growing those accounts. Tony played a huge role in that.
In addition, Tony led Micron's acquisition of Inacom Government Systems in 1999, which was one of those rare M&A transactions which turned out to exceed expectations.
He also learned valuable management lessons from the late, great Harry B Heisler.
Micron was based in Boise, Idaho, and there were no direct flights there from Washington or Baltimore. Tony and I decided to fly out together, and during that flight I learned a little more about Tony. We were forced to land in Colorado Springs because of a snowstorm. We were going for a connecting flight in Denver.
I found out Tony had a low boredom threshold when, while sitting on the tarmac waiting in a long line of planes, Tony told the flight attendant that we wished to deplane and find another way to Denver. She informed the pilot, who ordered the stairs on wheels to come get us off.
We walked back to the terminal with our carry-ons, found a cab willing to drive us to Denver, and left Colorado Springs. During a snowstorm. About a half hour or so into our trip, Tony pointed up and said, "That's probably our flight…"
Shortly after 9/11 Tony called to inform me he was going off the radar for a year or two, that he was going active with his team. At this point I really had no clue as to his military background, so I asked "Going active for…?"
He responded that his team was going to Fort Carson for some training, then deployment to Afghanistan to train the National Army. About six months later I got an email with a short note and a photo. The note indicated that he was deployed and that I might not hear from him for several months. The photo blew me away: Tony with full beard and in full combat mode.
Upon completion of his tour in Afghanistan, Tony returned and went back to GTSI from 2005 until 2011.
In 2011 he launched Minburn Technology Group to no fanfare. Minburn is an service-disabled, veteran-owned small business and one of only six Microsoft authorized LSPs, a Licensed Service Provider.
Then he carefully built his team. Like his forward deployed unit, Tony chose to stay off the radar for as long as possible. Hence, when I asked him to speak to my graduate class at George Washington University, his opening salvo almost burned.
I taught the marketing to the government course in GW's GovCon Master's program for four years. Tony's first comment after being introduced was "Minburn does not do any traditional marketing."
Blasphemy! Until I figured out he was preaching from the gospel according to "relationships." He has a great relationship with Microsoft, which allowed him to get the LSP status.
He is an excellent BD and sales guy, with a ton and a half of GovCon BD and sales experience. He did not use traditional marketing because he wanted to stay off the radar for as long as possible.
During his presentation to my class, he shared the revenues for Minburn, and I was blown away. Then he walked us through his strategy.
When he returned to my class the following year his plan had expanded. He started selling to the VA because a talented and trusted friend became available and his forte was VA. Opportunistic growth predicated on relationships.
The Minburn team was still lean and small in numbers, but packed a punch well beyond its weight class. Tony knows each of his team members very well and like his Army team, he trusts them completely. Each brings a critical role to the company, but the team remains very small in comparison to other value-added resellers.
In 2020, Tony lost the ability to stay off the radar. Minburn Technology Group, LLC, broke into the Washington Technology Top 100 Contractors at #94, reporting $225.3 million in prime contract revenue, all federal. In 2021, Minburn jumped 28 spots to #66 reporting $385.5 million in prime contract revenue, again, all federal.
In 2022. Minburn moved up to #57 with $467 million in prime contract revenue. All this with just 21 employees.
Minburn was built on the lessons Tony learned from the Special Forces, from executives like Dendy Young, Harry B Heisler and Scott Friedlander. He strategically and tactically used the power of relationships throughout his career and in the development and deployment of Minburn.
What's next for Minburn in 2022 and beyond? I can't say but this I know: big things can be accomplished by a small, dedicated team, maybe even expanding to more than twenty one employees. But they will be hand-picked specialists.
Ask me who the heck is Minburn? I'd have to answer that it's the Special Ops unit of GovCon.