The need for clarity as GovCon faces a 'Black Swan' moment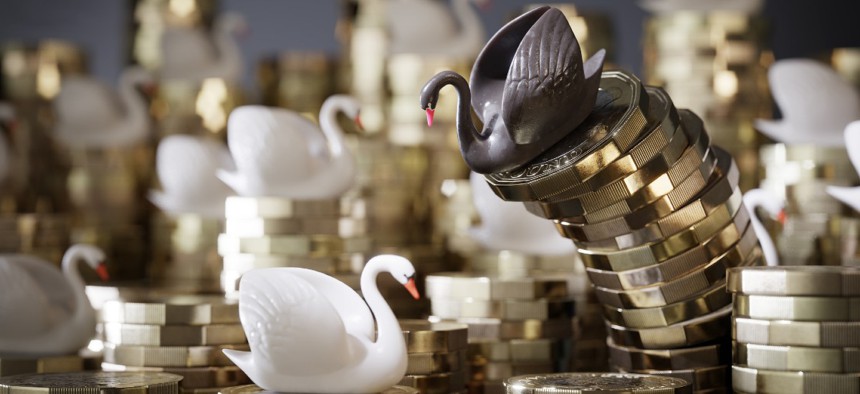 Shutdowns and stopgap funding measures are familiar territory for government contractors, but a potential debt default is not. It's time to understand what that might mean.
No one has ever experienced an environment where the U.S. defaults on its debt and is therefore unable to pay all of its bills.
But June 1 appears to be the date by which everyone will start to experience that environment if Congress and the White House do not reach an agreement to raise the debt ceiling. Banking difficulties, inflation and interest rate hikes are enough for everyone to consider already.
A world in which companies may not be able to 100% rely on the U.S. federal government to pay them for work performed on contracts could put that notion of stability into question in a manner that is different from shutdowns. Both present "Black Swan" economic events to the market either way.
The scale of any potential impacts shows up in the numbers. Federal spending was equal to one-fourth of the U.S. economy in the government's 2022 fiscal year. The federal government spent $6.27 trillion in its 2022 fiscal year and current gross domestic product hit $25.46 trillion.
That dollar figure includes contracts, grants, other discretionary spend and mandatory obligations for programs like Medicare and Social Security. Federal contract spending totaled $637 billion in fiscal 2021.
Financial and legal professionals across GovCon are at work to try to understand how contractors can, and should, navigate a world of a government debt default.
One common theme emerges when asking around regarding what could happen with no done deal by June 1. Simply put: the government will have to make choices on which financial obligations to fulfill and those that will have to wait. Some contracts with some agencies may fall into category two.
The government contracts team at law firm Morrison & Foerster LLP calls out those in category one as including interest rate payments to U.S. bond holders, military salaries, civil servants' pay, unemployment benefits, Social Security checks, Medicare benefits, federal law enforcement expenses and funding for the courts.
Category two including some contracts is far more complicated, and yes it will likely be on a contract-by-contract and customer-by-customer basis.
In any type of environment, one thing every company in every sector should do is far simpler. Alan Chvotkin, partner at law firm Nichols Liu and longtime GovCon legal and policy specialist, wrote back in February that discussions with preferred financial institutions are a must for contractors.
Fire drill exercises are exhausting to begin with, so periodic check-ins between banks and companies that have credit lines and other financial arrangements there are always a good idea to begin with.
According to default scenarios laid out by Morrison & Foerster's Kevin Mullen and Markus Speidel, agencies will either conserve their cash or press on with business-as-usual even if they do not get funds.
In the cash conservation scenario, procurement activity slows down at nearly every step, from new solicitations to awards of contracts or task orders.
Active contracts require discussions with the agency customer on whether to stop the work or have the contractor "take a vacation" if that program relies on incremental funding, Mullen and Speidel wrote.
The scenario of agencies operating business-as-usual but with a lack of funding is murky and presents two choices the authors present: contractors using their legal right to not work on the contract or press on without getting paid.
Documenting everything does not solve the big-picture problems that led to this debt ceiling crisis, but at least is something contractors can control. All in the interest of ensuring agencies process invoices for payment or have a plan to do so in the event of a cash crunch.
You might notice that the dreaded U-word has not appeared The world has always had "uncertainty" in it, never had peace and tranquility in it.
We all should retire that word out of our system even as we always acknowledge the spirit of it.