How CACI, Northrop see today's supply chain & labor megatrends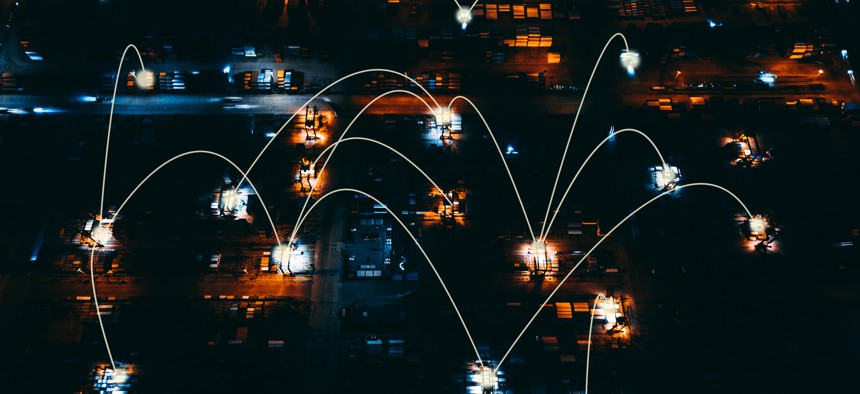 Supply chain disruption and labor constraints go hand-in-hand in today's environment based on how Lockheed Martin and Raytheon Technologies described them during their earnings calls earlier this week.
Now CACI International and Northrop Grumman executives are adding their take on the situation. They also shared with analysts Thursday their respective agendas to mitigate potential negative effects on the businesses.
CACI International
Very few sectors can say they are completely insulated from the megatrend of stresses on the supply chain, whether that be finding raw materials or transporting them.
During CACI's fiscal first quarter call Thursday, CEO John Mengucci said the issue for them surrounds finding materials for compute and computing power to integrate onto its counter-unmanned aerial system and electronic attack products.
Which indicates semiconductors and circuits to be configured by a customer or designer after manufacturing. Reston, Virginia-headquartered CACI factored the shortage of chips for its Ascent Vision Technologies business in the company's fiscal year 2022 financial outlook.
CACI and AVT also ordered ahead of need for certain long lead items, but may see some impacts going into next calendar year.
"The way we see supply chain in our market though: unlike commercial items, we're viewing supply chain issues more of a timing issue," Mengucci said. "The threat doesn't go away. The delivery still needs to happen, so we are continuing to relook at the full delivery timeline."
Mengucci also reiterated that talent: demand "absolutely remains high" for people with high-end technology skills and clearances. But he added that demand is also "really no different than it has been for the past several years."
Also no different is the specter of wage inflation, almost always because of scarcity and sometimes because of the region they are based in. Talent costs more in the Washington, D.C. metropolitan region, for instance, compared to other locations.
"Top talent with specialized technology skills and certifications and badges and everything else that we're looking at new employees for, as well as the fact that we are in a lot of cases hiring highly, highly accredited employees, I'm very happy to pay for them," Mengucci said. "That's what the marketplace bears and that's what we're going to need to pay."
CACI also been at work for the past five-to-six years on further spreading out its technology and engineering workforce across the U.S., a trend the company sees as accelerated by the pandemic and has the support of agencies.
"It wasn't many years back where a lot of the request for proposals said that the development work had to happen within 'X' number of miles of the customer's facility," Mengucci said. "Our customers recognize that fight for talent needs to be nationwide, not just based where our customers are."
First quarter revenue climbed 2.2 percent from last year's first quarter to $1.49 billion, or a 2-percent organic sales increase. CACI also reported a 2.7-percent decline on the bottom line to $160.9 million in adjusted EBITDA (earnings before interest, taxes, depreciation and amortization).
Shares in CACI were up 0.75 percent to $274.21 at 2 p.m. Eastern time.
Northrop Grumman
Falls Church-headquartered Northrop called out the global computer chip shortage as a factor that affected its financial and operational performance in the April-June period, though the company does have ways to work through that matter.
The just-completed third quarter saw a more elevated impact to the numbers. Revenue fell 4 percent over the prior year period to $8.7 billion and this line in the company's release explains most of why: "the impact of COVID-19 on the broader economic environment, including a tight labor market, elevated levels of employee leave and supply chain challenges."
Northrop did sell its IT services business to Peraton earlier this year and that adds another factor into the decline. Sales should hit around $36 billion this year, according to Northrop's updated forecast, with organic growth continuing into next year.
But the here-and-now of broader challenges not unique to Northrop was on the mind of analysts that wanted to know what the company is doing today.
CEO Kathy Warden said Northrop has increased its hiring plan for the fourth quarter given those broader dynamics and the general requirement that all federal contractors be vaccinated against COVID-19 by Dec. 8.
That plan aims to "help mitigate the potential impact of any increased attrition," Warden said, adding that Northrop leadership is working with employees to fulfill the requirement. Northrop does believe that a "vast majority" of employees are vaccinated or in the process of doing so, Warden added.
Then there are the supply chain impacts that Warden acknowledged as a reality, but one she said has a "fairly minimal impact" because Northrop has a high direct labor content on programs versus external suppliers.
Northrop's overall backlog is 8-percent lower at $74.8 billion compared to last year's at the third quarter's end, but the company is anticipating more awards to come as this year ends.
"I feel really good about the portfolio that we have and our ability to weather what we expect to be short-term impacts and still be on a path to growth," Warden said.
Shares in Northrop were down 6 percent to $362.45 at 2 p.m. Eastern time.