How L3Harris and Northrop look at capacity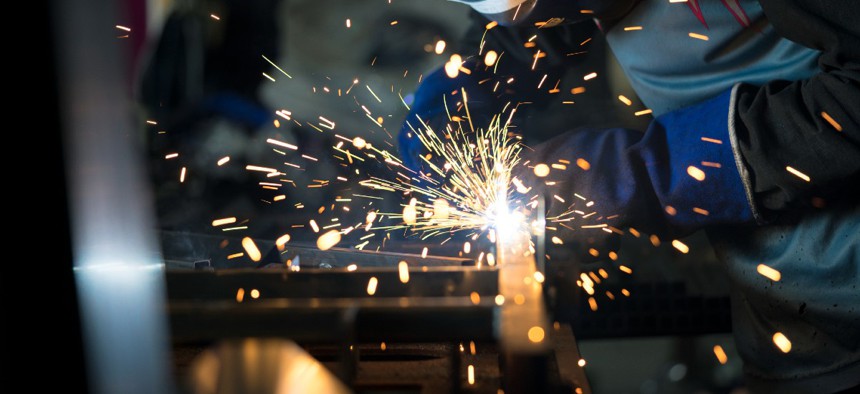 Having the internal heft to meet demand during a surge is top of mind for these two defense hardware companies.
Capacity has been a lead agenda item for everyone in the defense ecosystem when it comes to weapons production lines, not just in what it takes to surge for events such as the war in Ukraine but before they happen.
The Defense Department's prioritization of that capacity can be seen in its creation of a new team within its acquisition office. Stood up in March, the Joint Production Accelerator Cell will lead efforts to institutionalize production capacity boosts with an eye toward resiliency and an ability to surge.
But what of the role companies have in that overall push? Here are snapshots of how two large defense hardware makers see the issue as explained during their first quarter earnings calls with investors.
L3Harris Technologies
Much of L3Harris' thinking when it pertains to the weapons manufacturing realm is seen through the prism of its $4.7 billion agreement to acquire Aerojet Rocketdyne, which is in the midst of an antitrust review.
As a quick recap: the Federal Trade Commission in March made a second request to those companies for more information about their proposed business combination.
During a call with analysts Friday, L3Harris' chief executive Chris Kubasik said the company expects to submit its reply around June and Aerojet will likely make its own filing first.
That timeline suggests an FTC decision by this summer and closure by the end of this year if that agency allows the transaction to go ahead.
As he has before, Kubasik presented his case for why L3Harris should be allowed to proceed with this argument: "We do not compete with Aerojet Rocketdyne. I mean plain and simple, they make rocket motors and rocket engines, and we do not."
More on that below the body of this section, where you can watch Kubasik's appearance on CNBC's "Closing Bell: Overtime" program from Thursday.
But regarding the bigger picture of weapons including munitions, Kubasik pointed out to analysts that the Defense Department's munitions funding request for fiscal year 2024 is 20% higher than that of 2023.
"I think we all know the need and the desire for these munitions for not only current threats, but future threats, in addition to refill in the stockpile," Kubasik said. "So I think the acquisition in December made a heck of a lot of sense, and I think when you look at the budget, it makes even more sense."
First quarter revenue of $4.47 billion was 9% higher over the prior year period including 7% organic growth, while segment operating income of $638 million was 3% lower.
In the video clip below, Kubasik talks about the earning results on CNBC.
Northrop Grumman
Capital expenditures are a cost item many investors with a keen interest in the defense industry want to know about as part of their effort to understand how companies operate.
But here again: acquisitions also can feed into how companies approaches future internal investments with that business being purchased as a foundation.
During Northrop's call Thursday, chief executive Kathy Warden said they have invested nearly $1 billion into building weapon and missile component capacity since the acquisition of Orbital ATK in 2018.
Orbital ATK brought to Northrop an extensive lineup of solid rocket motors and boosters as part of the latter's overall push to gain greater footing in space and missile defense programs.
Warden told analysts Northrop is also increasing capacity for its missile integration facility located at the Allegany Ballistics Laboratory, which the company operates for the Navy under a contract inherited through the Orbital ATK acquisition.
But while those moves have an element of trying to stay ahead of the curve, there is also the other side of that equation regarding how much the government is willing to invest as well.
"We look out and say there is likely to be a period of surge that the government would like industry to respond to, and there, we've put proposals forward to the government to get their funding to support what would be that additional capacity," Warden said.
"We have more than doubled the capacity with the investments we've laid in or plan to make. For the government to go even further than that, we are suggesting that we can support that but would look for government funding to complement it."
First quarter revenue of $9.3 billion was 6% higher over the prior year period, while segment operating income of $1 billion was 3% lower.