How partnerships drive the autonomy strategy for L3Harris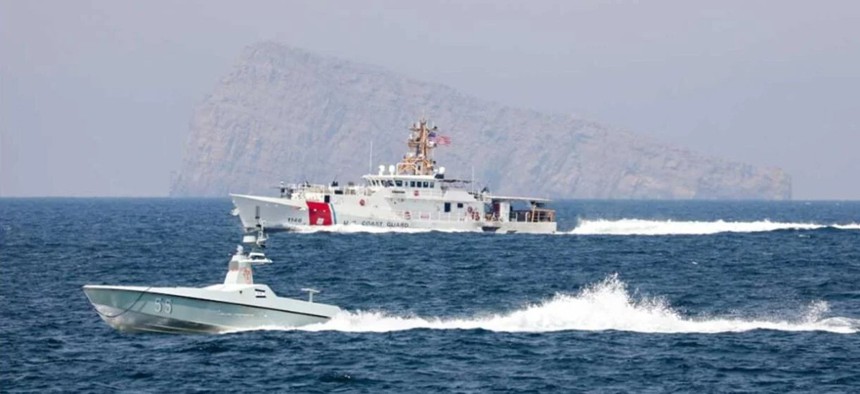 L3Harris Technologies' push to be the defense industry's "nontraditional sixth prime" and "trusted disruptor" also involves looking outside of itself into the partnership ecosystem.
That has led L3Harris to team up with artificial intelligence integration company BigBear.ai on creating new products for autonomous surface vessels for the Navy.
Jon Rambeau, president of L3Harris' integrated mission systems segment, told WT the idea was to incorporate BigBear's AI products into his company's autonomy software to aid in the identification and tracking of other vessels.
"We were able to do a better job of not just executing a set of pre-defined commands, but also observing the environment around it," Rambeau told me in an interview at L3Harris' Washington, D.C. office. "It actually allows the software to start interpreting its environment and be more helpful in reporting back what it's seen."
Both companies formally announced their collaboration on Monday but their working together predates that. The move to make this partnership official followed a series of discussions that progressed to a point where both companies saw an opportunity to "marry up two technologies" they see as stronger together, Rambeau said.
"I find that the best partnerships are the ones that are borne out of some mutual success," Rambeau said. "In many cases you might start talking to a partner about good ideas and it's hard to find a way to turn those good ideas into something tangible that really creates value."
"The thought process there (with BigBear) is: we clearly have a foundation of successful collaboration on which to build," Rambeau said.
During BigBear's first quarter earnings call last week, chief executive Mandy Long said their role in the partnership is to supply computer vision and predictive analytics to L3Harris in an effort to improve unmanned teaming in the seas.
"How we're looking at it is that as additional vessels are built and are released and begin to operate, that our software will be running on that," Long said. "There is obviously a go-forward market associated with new unmanned surface vessels that are built, but there's also a market associated with retrofitting existing vessels that are on the water and our intent to be able to support and service both."
Some context is in order to highlight the government customer requirement landscape. The Navy and Marine Corps have made unmanned and autonomous technologies a priority in their efforts to see more of the battlefield for longer periods of time, including in places that are hard-to-reach or too dangerous for people to be in.
Melbourne, Florida-headquartered L3Harris has in the meantime cast itself as a defense company that departs from doing business-as-usual since the merger to create it in the summer of 2019.
One pathway for L3Harris to make that happen in the world of autonomous systems is found in its ASView system, which is the software that BigBear's AI capabilities will be combined with under their partnership.
L3Harris developed ASView to enable autonomous and remote control of uncrewed vehicles, while that product has been deployed on more than 100 newly-built and retrofitted surface vessels.
The retrofitting aspect represents a sharp departure from prior approaches and ideas on how to make autonomy a reality. Rambeau told me L3Harris is looking at how it can refurbish existing commercial vessels for military usage, which would include more robust communications and sensor systems onboard.
"You could do that in say 12-to-15 months versus what may take twice that time if you were going to build a small-to-medium ship from scratch," Rambeau said. "We've found there are some very capable commercial ships out there, midsized vessels.
"Ironically, many of them are minimally crewed today. They have a lot of automation already and some of the mechanical controls for some of these commercial vessels, so we think there's a real opportunity to speed up the process."
Rambeau said that five years ago,the defense industry and most of its customers were talking about autonomous maritime systems as "the future." Now the conversation has turned to capabilities that are in action today.
"What most of our customers are talking about is how do we create an environment where the unmanned systems can operate in partnership with the manned capabilities," Rambeau said.
L3Harris believes a set of passive sensing solutions it provides to the Air Force presents a blueprint for making that teaming arrangement happen for the Navy's surface fleet, where vehicles with no crew augment others with people on them.
Which brings up this big-picture solution Rambeau described:
"How could there be some unmanned platforms that deploy further ahead of a battle group, sensing what's in the environment, feeding that information back to the manned platforms, to provide them a greater range of awareness, to provide greater insight into what our adversaries might be doing."